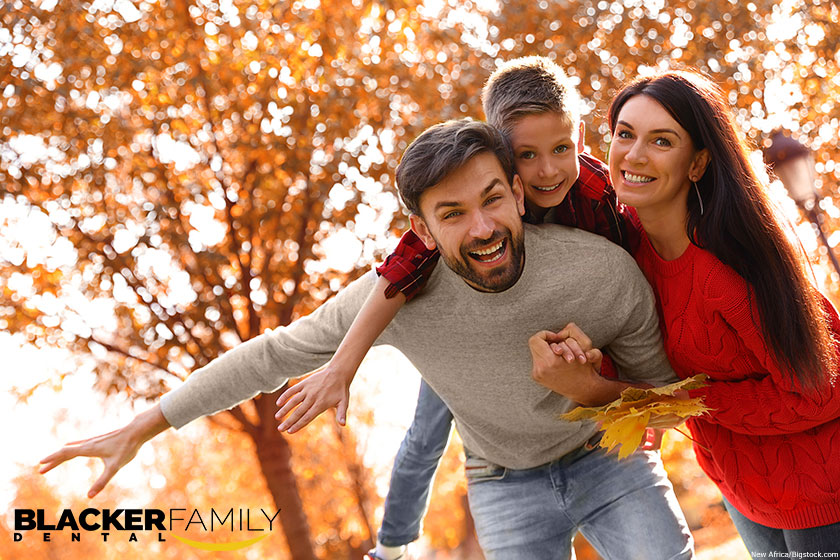 SIX Simple Dental Health Tips for Autumn in KC!
The weather sure can change quickly here in Kansas City, huh? It seems like just the other day the temperature was in the 90s, and now fall is right around the corner! Fortunately, your friendly Kansas City family dentist has some dental health tips to help get you through the season looking and feeling your best!
Replace Your Toothbrush. A new season means a new toothbrush. Not only does your old toothbrush begin to wear out after a few months, germs can actually stay in the bristles of your toothbrush between brushings or grow there when you're not looking, which is pretty yucky. Replace your brush (or the head on your electric toothbrush) every three months!
Enjoy an Apple a Day. Autumn is apple season here in the Midwest. That's great news for your teeth, since apples can actually act as "nature's toothbrush" and help scrub your teeth clean as you eat them. Plus, apples are good for your overall health. There's a reason they say, "an apple a day keeps the doctor away," after all.
Buy a Mouthguard. Autumn is also football season. Whether your kids are playing school sports or just a bit of tag football on the lawn, a mouthguard can help protect against chipped, cracked, or even lost teeth. If you have questions about selecting a mouthguard, your Kansas City family dentist can help.
Beware of Cold Air and Hot Liquids. Pumpkin spice lattes are back, of course, and so is the cold weather that makes hot drinks so soothing. Unfortunately, if you have sensitive teeth, both cold air and hot liquids can be a problem. Take care, and if you're suffering from tooth sensitivity, talk to your dentist.
Give Yourself a Stress Break. Whether it's the start of the school year or simply the fact that you're spending more time indoors with less sun, this time of year can be stressful. We all know that too much stress can cause health problems, but stress can also harm your dental health by causing you to grind your teeth and clench your jaw. Give yourself a break this fall. Find a new exercise routine, pick up a hobby, or do whatever you need to feel better and live healthier!
Get Plenty of Sleep. Is this a dental health tip? You bet it is! Seasonal changes bring with them shifts in humidity, new pollens in the air, and changing weather fronts. All of these have an effect on the quality of your sleep. And what do you do when you don't sleep well but you still have to be productive through a long workday? You reach for the sugary caffeinated soda or the sweet coffee drinks. Fortunately, your Kansas City family dentist can help you with sleep problems. Click here to take Dr. Blacker's Sleep Screening Questionnaire to see if you need help getting your best night's sleep. And try to avoid those sugary beverages. They're bad for your teeth.
Fall is also a good time to schedule your bi-annual Kansas City family dental checkup and cleaning. If you haven't done that already or just have questions, call Blacker Family Dental at (816) 763-8400 or click here to schedule an appointment.