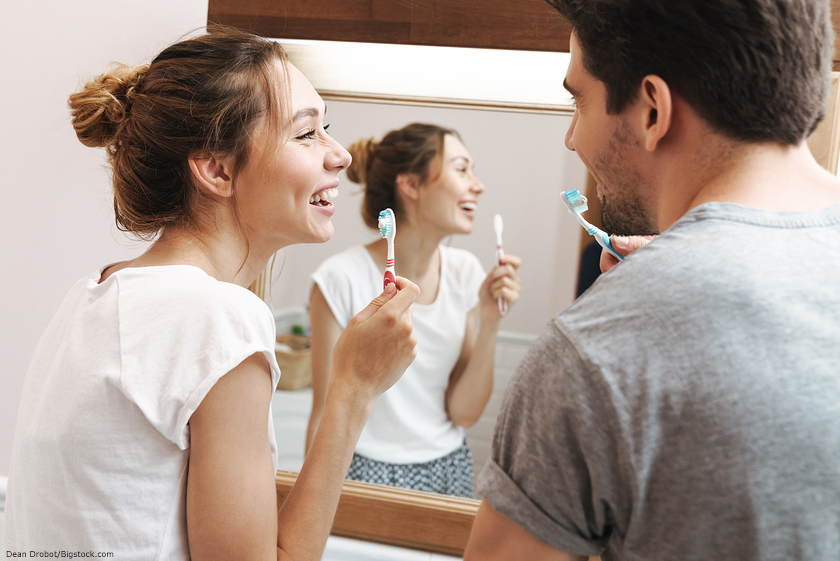 FIVE Simple Routines to Help You Maintain a Healthy Smile
October is National Dental Hygiene Month! It's probably a good time for it, too, considering all those sacks of candy that are floating around everywhere by the end of the month. Sure, we all like the occasional piece of candy corn or mini Snickers bar, even at your Kansas City family dentist, but there's a lot of candy tempting your sweet tooth in the month of October.
In honor of National Dental Hygiene Month, here are five simple routines that anyone old enough to manage a toothbrush can and should do to help maintain a healthy smile through the month of October and all year long:
Brush – Do it twice a day for two minutes at a time. Use a toothbrush with soft bristles that aren't too firm. Firmer bristles will wear down the enamel of your teeth. Use fluoride toothpaste or toothpaste that has been recommended by your Kansas City family dentist. Use a toothbrush that fits your mouth and that allows you to reach every area of your teeth. Electric toothbrushes can help you to clean your teeth more thoroughly, and they also time how long you're brushing so you're sure you get those two minutes in!
Floss – Many people skip this step, but they shouldn't! Flossing your teeth is just as important to your dental health as brushing. Your toothbrush simply can't reach food and plaque that's between your teeth, especially near the gumline. Floss at least once a day, every day! Need tips on the best methods? Ask your Kansas City family dentist at your next appointment!
Rinse – It's not just to freshen your breath! Using mouthwash and oral rinses after you brush helps to take care of the rest of your mouth, not just your teeth. Use an antibacterial mouth rinse that has the ADA Seal of Acceptance and avoid rinses that contain alcohol. Rinsing regularly helps cut down on the number of bacteria in your mouth and reduces your risk for tooth decay, gum disease, and infection.
Chew – Chewing gum helps to stimulate saliva, which is your mouth's first line of defense against tooth decay and other oral health problems. Just select sugar-free gum that has been approved by the ADA. Chewing sugar-free gum is especially helpful after meals if you find yourself in a situation where you can't brush right away.
Show – As in, show up for your bi-annual dental checkup and cleaning appointments with your friendly Kansas City family dentist. These twice-yearly appointments are just as important to your dental health as brushing, flossing, or anything else you might do. Make your appointments and put them on the calendar so you don't forget them!
Blacker Family Dental in Kansas City, MO is celebrating National Dental Hygiene Month all October long, but we're always interested in dental hygiene and helping to make sure that you have the bright, healthy smile you've always wanted! Give us a call at (816) 763-8400 or click here to schedule an appointment.