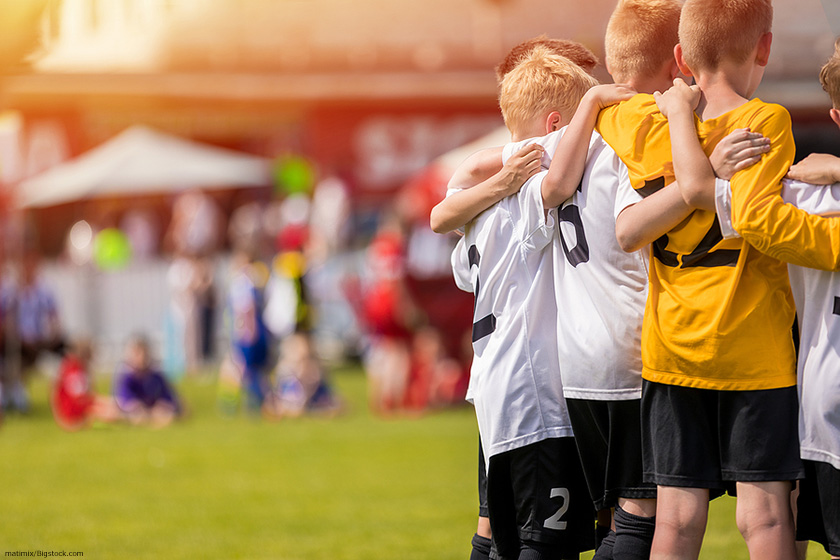 Spring and Summer Sports and the Value of Mouthguards
Spring is already here in Kansas City! The trees are budding, flowers are blooming, the weather is getting warmer, and summer isn't far behind. With warmer weather comes the opportunity to shake off the winter blues and get outdoors for some fresh air and exercise, and your Kansas City family dentist has some advice for you: If you're planning to play summer sports, you should also be planning for a mouthguard.
Both kids and adults have plenty of summer sports to choose from in the KC area, from football and baseball to soccer, basketball, volleyball, rugby, lacrosse, and more. While some of those offer more contact than others, anytime you find yourself chasing a ball (or a frisbee or anything else) on a field, you run the risk of an occasional collision that could result in a dental emergency such as a chipped tooth, a tooth that's been knocked loose, or any number of other problems.
The utility of a mouthguard isn't limited to these kinds of summer sports, either. Whether you ride your bike, take boxing lessons, jump on the skateboard, practice martial arts, wrestle, play field hockey, or even engage in water polo, a mouthguard can protect your teeth if, for example, you fall on your face (be honest, we've all done it) or get hit in the head with a ball. Mouthguards are vital for adults as well as kids.
Are mouthguards really that necessary? As your Kansas City family dentist, we can say, unequivocally, that the answer is YES. In fact, mouthguards help to prevent more than 200,000 injuries every year – some of them quite serious!
When you get right down to it, a mouthguard is a pretty simple piece of equipment, but it does a lot of heavy lifting in the event of a collision or fall. By providing a cushion between your teeth, a mouthguard can prevent teeth from becoming chipped or even knocked out. What's more, it also protects the rest of your mouth from your teeth, meaning that when that soccer ball clocks you in the head, you won't do a number on your own lips, gums, or tongue.
Okay, you're sold on a mouthguard. What kind should you get? There are three main types of mouthguards, and each one has its uses. Stock Mouth Protectors are a one-size-fits-all solution that can be found in most sporting goods stores. Boil and Bite mouthguards are softened with boiling water and then formed around your bite to offer a more custom fit, while custom protectors are specially designed to fit the teeth of the wearer and are custom-made at your Kansas City family dentist's office.
If you have questions about selecting the right mouthguard for your summer sports or to help protect a child's teeth, your Kanas City family dentist has the answers you need. At Blacker Family Dental, we've been helping Kansas City families with all of their dental care needs—from cosmetic dentistry to sleep apnea—for years. If you have questions, just give us a call at (816) 763-8400 or click here to schedule an appointment today!